About us-stari
We are a family dental activity, which combines dental therapy and dental laboratory technology, with extensive experience in this field. That's why we can provide you with a high quality and quick service with minimum wasted time and visits.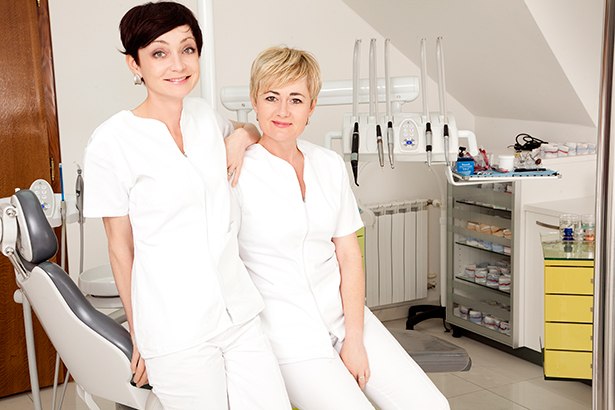 Most of our patients come on the recommendation of their relatives or friends who have used our services. Therefore is our pleasure to greet and thank the long-term patients, who give us their trust and whose recommendations contribute towards the development of our clinics.
Our dentists are highly educated in all branches of dental medicine. They regularly attend training seminars in Croatia and the world, as evidenced not only with certificates but also with praise and satisfaction of our patients.Therefore, let yourself go to our team of experts.
The first visit can be arranged by phone
+385 42 722 022 or with Appoitment form
At the appointed time, at the first visit, doctor of dental medicine listens the patient, takes the status of the teeth, and, if necessary, makes the RVG snapshot and orthopan. Then explains to the patient what procedures should be done. All treatments are painless and are done under local anesthesia. If it is a prosthetic work, patient receives information about all the possibilities of solving his or her problems with teeth. According to the status, it can be a crown, bridge, dentures, combination work (bridges and dentures) or an implant. When the patient is familiar with all the possibilities for replacing missing teeth, and all the materials from which it can be done, he or she, according to their financial capabilities decides for one of the proposed options. Then the doctor of dental medicine begins with work. This means that already at the first visit the patient receives dental services for which he came.
Period of time needed for your prosthetic work is 7 days.
Our offices are located in the small, historically known place Vinica, fifteen kilometers from the Slovenian border. Arboretum Opeka, symbol of Vinica and widely known for its' rich horticultural heritage, was founded by Count Bombeles. Our offices are located in a house that was built at that period and it is a rare monument of 19th century rural architecture. Precisely because of that, its' facade has no modern glamor and is acting very modestly.
Despite the fact that premises have been upgraded, expanded and modernized, it hasn't spoiled the appearance of these rare and ancient architecture. We are pleased that we can provide for our patients a pleasant outdoor space, surrounded with waterfalls and scent of colorful flowers.
A virtual tour through our clinics